We've all Googled "how to plan a last minute party at home" at some point! From last minute party theme ideas to food and entertainment - here's all that you need!
"It was a nice weekend and everyone's party spirits were as high as Mt. Everest! But it quite literally rained on all our parades and ruined our party plans."
We've all been there! Here's to remembering multiple failed party plans due to bad weather, friends who like to stay in, and plans that get cancelled at the last minute. This is exactly why they say, "When in doubt, throw a house party!"
Meticulously planned house parties can be as elaborate as a cocktail party with everyone dressed up like Leonardo Di Caprio in The Great Gatsby. However, when it comes to a last-minute get together, it can be as easy-going as a pajama party. The theme and spirit of the party is really up to you and how you want it to be! Here are some ideas and tips so that you can plan a last-minute party like a pro!
Your Time Starts Now!
So, you've decided to take everyone's ruined weekend party plans and invite people over for a house party. In short, you have decided to save the day! The party starts at 7PM and the wretched clock says it's already 4!
We're sure your brain is going, "Now what?"
The easiest thing to do at this point is to freak out.
Here's our tip – Don't!
Create a rough mental plan of how you want the party to be themed. Last minute party themes largely depend on the time you have at hand. In case you have a couple of hours to go before your clan starts showing up, you'll have enough time to both – clean and go out to shop. But is you only have three hours, you might just have to make do with what you got!
If you don't know where to start, here is a list of the only three things you will need to have in your checklist to throw the best last-minute party:
Party Theme

Entertainment

Food and Drinks
Time Remaining: 3 Hours
Deciding a theme is probably the most important and the most difficult thing to do when you're playing the host. While it is mostly dependent on the amount of time you have before the party begins, deciding a theme beforehand will help you organize and align your entire party.
Before you start decorating, remember to clean your house so that your party pad looks neat over all. There's no need for the house to be Monica clean – a simple sweep does the deal. Pick up all stray clothes and get the bedrooms ready if people are going to stay over. Shouldn't take more than 20 minutes!
While there are a lot of last minute party themes that people can create, here is our top pick:
Keepin' It Real
Remember all those times you begrudgingly dressed up in spite of not being in the mood? Well, here's your redemption! The Keep It Real party theme is for the chill-hearted! This theme is simple and minimal.
Keep your last-minute decorations to a bare minimum. A couple of ribbon streamers, some balloons on the floor, and lighting that suits the mood. Only decorate one wall so that you have a nice background for taking pictures. Here are some ideas that take less than 20 minutes to decorate your wall with paper streamers:
All you need to do to achieve this cute wall décor is to fold your papers into a fan, fold it into half vertically and stick the ends together. These Streamers are super easy to make and take less than 5 minutes each!
If you have some extra time, you can also hang these streamers from the wall with a thin string and let these paper snowflakes hang.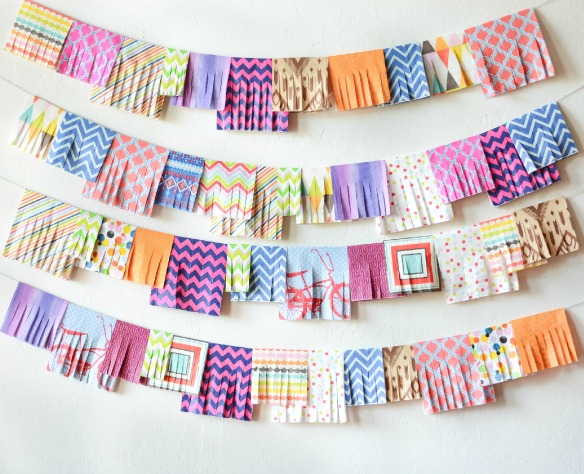 In case you don't have time to fold papers, you could simply fold decorative paper napkins into half and hang them from multiple strings on your wall to create this chic look! It's easy to create and fun to look at!
Let's take a look at the clock, shall we?
Time Remaining: 2 Hours
It's All About Having Fun!
Now that you have decorated the place, you need to also figure out what you're going to do to keep your guests engaged! Nobody likes a dull affair! Have some good music playing in the background, pick up a few drinking games and get ready to have a great time with your friends!
Here are DJ Rohit Barker's Tips to select the best music for a house party:
Check up on some of the best drinking games you can organize at home. Take fun to the next level. Here are our top picks:
I Never
Play the game like nobody else. One player states one true thing about themselves that they have never done before. Everyone who has done that thing, drinks from their glass.
21 for 21
Not just fun for people who turn 21, but also for those who have the capacity of a tanker! In this game, you're supposed to drink 21 shots in 1 hour. Regardless of whether you complete the challenge or not, you will end up making some serious memories in this game!
Once you have set the stage for the drinking games and the music, it's time for you to get the food going!
Food and Drinks Get the Ball Rolling
A party without food and drinks is just like a drab Harry Potter without his scar or a Superman without his cape! On the other hand, deciding food is one of the most difficult choices for some people! Don't worry, we've all been overwhelmed by restaurant menus at some point!
We recommend you have an assortment of munchies and finger food for your next house party. Here's the perfect menu for a quick house party:
Nacho Chips in Multiple Flavours

Salsa and Cheese Dips

Snack Packets (Banana Chips, Potato Chips, Doritos)

French Fries

Cupcakes, Muffins, Cookies

Juices and Aerated Cold Drinks
The best thing about these food items is that you will be able to find these at any convenience store near you! More time saved right there!
A trip to the nearest grocery and liquor store will only log some 1.5 hours in your clock even if you hit the worst kind of traffic possible! Apart from the menu items, don't forget to get these to make your party a comfortable one:
Paper Plates and Bowls

Paper Napkins

Spoons and Forks

Cups

Garbage Bags
Don't you think we're forgetting something? But of course, alcohol!
While not all parties need to have alcohol, chilling with your buddies at home with a bottle of Black & White and some good food gives will surely leave you with some good memories!
Stock your cabinet and get the party started when people arrive! In case you have enough time to spare, you can even experiment making cocktails with the juices and cold drinks you bought from the supermarket!
Now that we're done shopping for the basics, let's take a look at the clock, shall we?
Time Remaining: 30 minutes
Oh, look at that! That's just enough time for us to order Pizza for the Guests when they start coming!
Did you think we forgot the Pizza? All last-minute party ideas for adults are incomplete without Pizza! After all, there's nothing like sharing a large one with friends!
We recommend ordering an extra pizza just in case someone gets super hungry or brings an unexpected +1 to the party! Enough food for everyone! While the Pizza gets delivered, you can arrange all your munchies and paper cutlery on the table for the guests to use. Serve your munchies in big bowls for everyone to share!
Check out these innovative hacks for an awesome house-party and know how you can set the stage in 1 minute:
House Party in Bangalore?
Here's some good news to all house party enthusiasts of Bangalore! You can now order your alcohol at home without the need to go out! Order alcohol online in Bangalore from Hip Bar! Stringent age restrictions and identity verifications ensure the perfect alcohol home delivery experience for you!